2.
What kind of music do you like?
- I like pop music and Spanish music.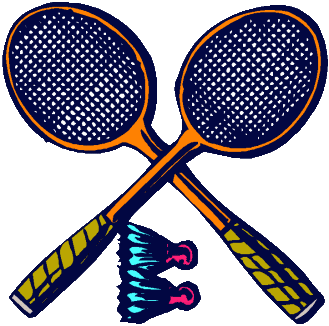 Badminton is a racquet sport played by either
two opposing players or two opposing pairs,
who takes positions on opposite halves of
a rectangular court divided by a net.
3.
Do you live in a house or a flat?
4.
Where do you live?
- I live in Ascurra.
5.
Do you play any sports?
- Yes, I do.
6.
What sports? Where do you play?
- I play badminton in my house with my boyfriend on weekends.
7.
Do you like reading?
- Yes, I love it!
- I usually read when I have some free time during my course.
9.
Do you read a newspaper?
- Sometimes.
10.
What newspaper do you read?
- I read Parole and Jornal de Santa Catarina.
I LOVE THIS PIZZA A LOT! Da Mamma is the
most delicious pizza I have eaten! And the best: the pizzaiolo
makes the pizza without cheese for me!
12.
What programs don`t you like?
- I don't like Faustão, Esquenta, Jô Soares, Raul Gil and Pânico.
13.
Where do you go in the summer?
- I usually go to the beach or I stay at home.
14.
What do you do at the weekend?
- I sleep a lot, I eat different foods like French Fries and pizza, I study when I need, I read, I watch movies with my boyfriend and I walk with the dogs.
15.
What do you do in the evenings from Monday to Friday?
- I go to FURB to study and sleep!
17.
How many cups do you drink a day?
18.
Where do you work and study?
- I study at FURB and I am not working at the moment.
19.
Do you like your course?
20.
Do you have a car?
- No, but my parents have.
21.
What kind of car do they have?
- My parents have a Vectra GT 2.0 2009/2010
22.
Do you drink alcohol?
23.
What`s your favorite drink?
- I just drink "capetão" with a lot of fruit, milk and a little vodka (I always ask the waiter to put the minimum alcohol).
24.
Do you like the cinema?
- Yes, I do.
25.
What kind of films do you like?
- I like romantic movies and comedies
.
26.
Do you play a musical instrument?
- Yes, I know to play the keyboard and the guitar, a little.
28.
Do you know a famous person?
- I've already talked to some famous people.
29.
Who do you know?
- I know Silvio Santos, Netinho di Paula and Rodriguinho.
This is me, my new friends and James, the driver. We recorded
Um dia de Princesa, a Brazilian program presented by Netinho
di Paula.
30.
What languages do you speak?
- I speak Portuguese, English, Italian, and Spanish.
32.
What disco do you go to?
- I went to Taphioka three years ago.
33.
What days do you study?
- I study every day!
34.
In the morning, afternoon, or evening?
- Usually I study in the evening when I'm at FURB. But when I have some tests, I study in the morning and in the afternoon.